Headquartered in Beijing and branch offices located in Hong Kong and Silicon Valley, Oceanpine Capital is a new prominent PE firm founded at the end of 2016. Up to now, Oceanpine has invested near 400 million US dollars into portfolio companies such as Lexin Fintech, Horizon Robotics, CaoCao Zhuanche, Qutoutiao, Enflame, Ansun Biopharma and Apexigen.

As a new prominent PE firm that focuses on investing in growth-stage start-ups, Oceanpine Capital emphasizes that its advantage lies in the integration of rich industrial resources, assisting "hardcore" technology to find application scenarios, and building a "barrier" deep enough. This strategy is related to the investment genes of the founder and the executive team. Mr. Dave Chenn, the founder and managing partner of Oceanpine Capital, is a serial entrepreneur and he has founded dozens of companies including YuanTel Co., YuanTech Co., and China Century Group, covering technology, energy, financial, culture & travel and real-estate areas. Dongjun Ma, the managing partner of Oceanpine Capital, was the CEO of Qingdao International Investment Co. Ltd., an MD and Head of Investment Banking at ICBC International, an MD at Nomura International, and an MD at Lehman Brothers. Adam Sun, the managing partner of Oceanpine Capital, has about twenty years of management and investment experience in the medical industry and has served as the chairman of the board of directors of the MD Anderson Proton Center in the United States. More than 80% of the investment team members have more than ten years of experience in the industry frontline.

On the third anniversary of Oceanpine Capital, 36kr had an interview with Mr. Dave Chenn, the founder and managing partner, and talked about his understanding of "deep technology" investment and Oceanpine Capital's current strategy.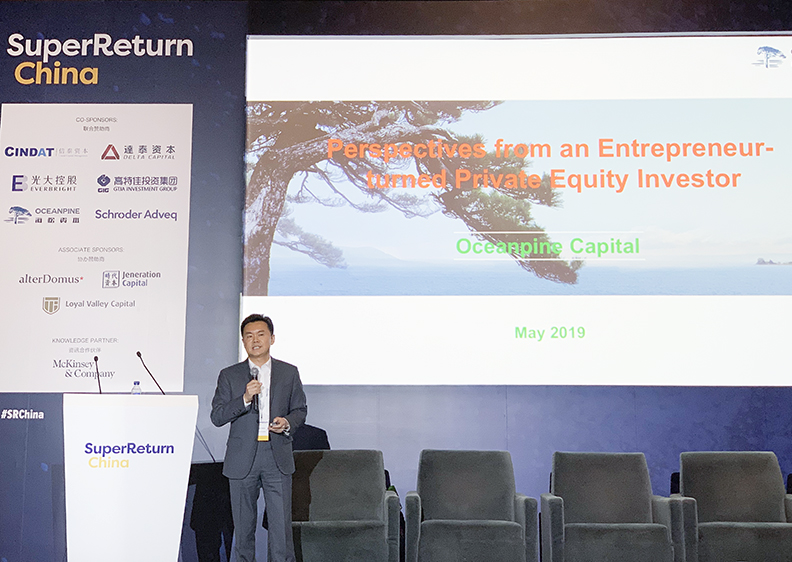 36kr: At the time of the year-end review, is there any change in the industry from your point of view?
Dave: Generally speaking, it is not only difficult for startups to raise funds at this moment, but also for GPs, especially for RMB fund GPs. Many people call it "a capital winter", which I believe is inappropriate. To be precise, it should be a polarization under the "two-eight law". It is generally more difficult for new funds to raise funds, but it is relatively easy for some Mega Funds because their LPs are relatively stable. The situation of dollar funds is similar because there are more uncertain factors in the overall environment. At present, Oceanpine Capital mainly focuses on dollar fund investment. Our RMB investments lie within industrial mergers and acquisitions and early-stage investment, which complements the dollar fund part. Currently we are running two funds, including the Oceanpine-Beidou High-tech Industrial Fund in cooperation with BDStar, and the Oceanpine-Horizon High-tech Industrial Fund in cooperation with Horizon Robotics.

36kr: Is there any change in the investment strategy this year?
Dave: Oceanpine Capital has always focused on the TMT and Healthcare fields. When we talk about change, we will pay more attention to our core business in the following two years. We will continue to cultivate, find and support "deep technology" companies with unique innovative technologies and huge market potential. The reason is simple. We believe that in the fields of e-commerce, new retail, and O2O, there are fewer and fewer opportunities to rely solely on business model innovation for rapid development. But "deep technology" must be the most critical driver for future economic growth, so we pay more attention to technological innovations that can bring about underlying changes and come with clear application scenarios.

36Kr: Which specific fields in the "deep technology" do you focus on? Could you make some examples?
Dave: Investment themes such as AI chips, big data, cyber security, 5G, new materials, autonomous driving, cloud computing, SaaS (To B), healthcare innovation, etc. are heated more than ever. However, our team evaluate potential investment opportunities from the perspective of whether bringing revolutionary changes to traditional industries or not.
For instance, big data and cyber security create an emerging field that balances and integrates traditional industry with new technologies. E.g. Qi An Xin, which will listed on the SSE STAR Market soon, is currently valued for more than RMB 23 billion. It is the fastest growing company in the domestic cyber security field.
In the field of AI chips, we have invested several typical leading growth companies, such as Horizon Robotics, Black Sesame Technologies, Enflame Tech, etc. Our investment thesis focuses on the ability and flexibility to switch application scenarios and fight against foreign chip giants.
In the field of biopharmaceuticals, our portfolio includes Ausun Biopharma, Rgenix, Apexigen, etc. Apart from solid R&D abilities, they specialize in creating patent barriers.
To be more specific, as a strategic investor, Oceanpine Capital participated in the RMB 300 million series A round of financing of Enflame Tech. It only took 14 months for Enflame to tape out the first domestic AI training chip, namely CloudBlazer T10. CloudBlazer T10 is known as a world-leading cloud-based AI training chip. The theoretical peak performance, performance per watt, and compatibility of T10 are excellent, and it will be delivered to the market by 2020Q1.
In the field of deep technologies, Oceanpine Capital will try to empower portfolio companies from the perspectives of business expansion as well as strategic development. We are very patient, and we will grow along with our portfolio companies.

36Kr: Is Oceanpine Capital cooperating with Horizon Robotics to launch an investment fund?
Dave: Yes. Surrounding the AI ​​chip industry, we hope to cover the entire industry chain and create an ecosystem, including software and hardware, upstream and downstream, and cloud-based and application-side, etc. At present, we have invested in several tier-1 unicorns in various segmentations, and we are closely following up tier-2 startups. We try to leverage our own resources and advantages within the industry chain to systematically assist portfolio companies, i.e. formulating product strategies, having access to key customers, exploring new application scenarios, etc.

36Kr: Is Oceanpine Capital endeavoring to be the "bridge" between deep technologies and industries?
Dave: So far, traditional industries dominate China's economy, in urgent need of innovation and revolution nevertheless, known as the Blue Ocean Market. Startups are difficult to enter the Market, subject to limited scale and incorrect targeting. To make it worse, most domestic PE firms are also disconnected with traditional industries, offering very limited help for to their investee startups to explore the Blue Ocean.
However, this is exactly the advantage of Oceanpine Capital. Our team have been digging into Chinese traditional industries for more than ten years. We not only understand the industries pain points, demands and commercialization, but have unique understandings in various aspects of the industry chain, and the ability and flexibility to integrate and coordinate resources. Moreover, our team are equipped with both industrial background and investment experience. As for me, I started as an engineer and I used to be a product manager at Oracle's headquarter for many years. I have entrepreneurship experiences as well. For example, the IoV (Internet of Vehicles) company I founded earns annual revenue of nearly RMB 2 billion. It provides Tier-1 services for over a dozen OEMs in China.

36kr: How to achieve the function of "bridge"?
Dave: As mentioned earlier, "bridge" aims to help start-ups and "hard core" technologies to quickly find application possibilities in traditional industries. Through highly mature industrialization testing and review, we verify business logic and achieve a high level of integration with traditional industries. We can also use industrial resources to rapidly promote technologies and solutions, and improve the self-hematopoiesis of startups.
For example, State Grid Corporation of China, China Guodian Corporation, China State Construction Group, China Unicom, China Telecom, Changan Automobile, China FAW and other large-scale companies in traditional industry all have high demands for innovative technologies in all sections of these companies, which are far stronger than the imagination of ordinary startups.
In general, we are very confident to invest in the industry by integrating industrial and capital resources, help "deep technology" companies to enter the market, promote continuous innovation in the entire "deep technology" industry, and introduce the latest technology to more traditional industries to achieve their transformation and upgrading. It also contains the excess value we created for LP.

36kr: How does Oceanpine make investment decisions?
Dave: Our overall investment strategy is stable and pragmatic, which is related to the experience and background of our team, but we are also very decisive and efficient when making investment decisions. This is also because that the entire team has been in the industry for many years. When we are looking for investment targets, we hope that deep technology companies have a proven concept or design and prototype product, or early revenue. In this way, it is much easier helping connect the customers, conducting product and technology verification, or even doing joint research. Conversely, once the above conditions are met, it will naturally be in line with our investment logic. In addition, our GP itself is the largest LP, so the overall decision is more efficient and pragmatic.

36kr: Did you miss any good targets?
Dave: That is inevitable, but basically it doesn't belong to the field we focus on, or we think the valuation is too high, so there is no so-called regret. I would like to highlight the pitfalls that have been avoided, especially some immature companies that are seriously overvalued, even some star companies.

36kr: Any suggestions for entrepreneurs?
Dave: I think entrepreneurs should not blindly pursue high valuations. Too high a valuation is not good for investors or entrepreneurs. High valuation is a double-edged sword. Our requirements for invested companies are always: at any time, we must do in-depth industry research, target needs and pain points, target product routes, and patiently polish products. We do not require immediate revenue or profit, but it must truly create value, especially an industrial ecology with a high barrier.

36kr: Can you predict what major variables will affect "deep technology" investment next year?
Dave: Let's talk about this issue in several ways. The first is the policy. Now all kinds of guidance funds, industrial funds, and incentives are tilted to deep technology, which is good news. Secondly, financial environment, including SSE STAR market and the recently lifted restrictions on refinancing, is good for some upcoming and already listed high-tech companies. These companies can more easily obtain financial support and development opportunities. Thirdly, the landing of "Safe and Reliable Technology and Industry Alliance" will also bring more opportunities for many deep technology companies.